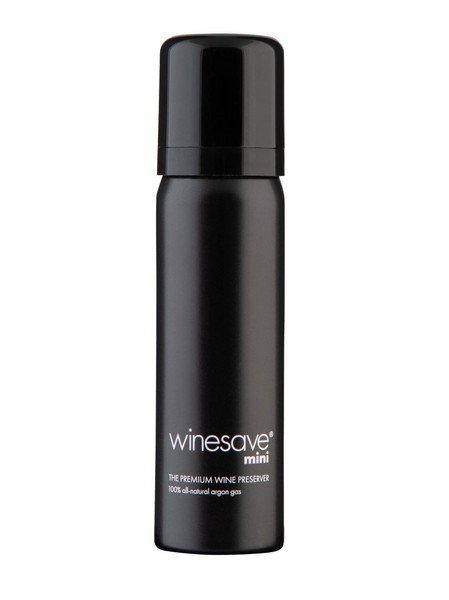 Winesave MINI 
Winesave on the go!
THE premium wine preserver, now ultra portable!

Peace of mind, now in the palm of your hand
Now, wine lovers can winesave anywhere
Maximum wine preservation, minimum size
Conveniently fits in your pocket or purse
The same winesave you love and trust:
Made with the same 100% all-natural, high-quality, food-grade argon gas
Protects up to 25 applications all in a ultra portable size canister
Comes with our lifetime guarantee to make opened bottles of wine last longer
Preserves opened bottles of wine for days, weeks, or even months

Works on all wine types - red, white, and even sparkling (with any locking stopper)
Now, even more convenient:

Now more than 75% smaller than our popular winesave PRO
Conveniently fits in your pocket, purse, any case of wine
Just grab n' go, great for picnics, barbecues, events, etc.

Includes easy-to-use flexible, ultra-repellent dispensing tube
Protects at least 15 bottles
100% recyclable
Note to Bar and Restaurant Owners
If you are a Bar or Restaurant owner, now is the time to safeguard your opened alcohol stock. Email us at alex@winesaveasia.com for Winesave Pro wholesale and bulk quotes.